1 cup pumpkin puree + 2/3 cup maple syrup or honey + 1/4 cup greek yogurt + 1/4 cup coconut oil + 1 egg +2 tsp. vanilla extract
1 2/3 cup whole wheat flour + 1 tsp. cinnamon + 1/4 tsp. nutmeg + 1/2 tsp baking soda + 1/2 tsp. baking powder + 1/2 tsp. salt
Preheat oven to 350F. Line muffin pan with muffin liners. In a large bowl combine all the wet ingredients. In a separate bowl combine all of the dry, Add the dry ingredients to the wet ingredients and stir until combined (the batter will be thick). Distribute the batter evenly about 3/4 full. Bake for 18-20 minutes
Better For You Banana Bread
1/3 cup melted coconut oil + 1/2 cup maple syrup + 2 eggs + 1 cup mashed ripe bananas + 1/4 cup almond milk + 1 tsp. baking soda + 1 tsp. vanilla + 1/2 tsp. salt + 1/2 tsp. ground cinnamon + 1 3/4 cups whole wheat flour
Preheat oven to 325 degrees Fahrenheit and grease a 9x5 inch loaf pan
In a large bowl mix together the eggs, honey, and oil, then add the mashed bananas and milk. Add in the baking soda, vanilla, salt, and cinnamon and whisk to blend. Lastly, mix in the flour until combined.
Pour the batter into your pan and sprinkle lightly with cinnamon
Bake for 55- 60 minutes or until a toothpick is inserted into the middle and comes out clean. Let the bread cool in the loaf pan for 10 minutes!
For the sauce:
1 tablespoons Thai sweet chilli sauce
1 tablespoons hoisin sauce
2 tablespoons light soy sauce
1 tablespoons Sriracha
1 tablespoons olive oil
1 teaspoon sesame oil
1 tablespoons unseasoned rice vinegar
2 tablespoons minced garlic (about 4 cloves)
The filling:
1 pound ground chicken
8 scallions, thinly sliced, whites and greens kept separate
1 red bell pepper
1 tablespoon minced garlic (about 2 cloves)
1 white onion, diced
1 cup shredded carrots
In a saucepan combine oil, garlic, onions, peppers, carrots and let cook until soft. In a separate sauce pan cooked chicken throughly. Combine all sauce ingredients and whisk until combined. Add cooked vegetables, chicken, and sauce together and let simmer for approx. 5-10 minutes
Serve in lettuce wraps, over rice, or eat on its own!
1 small red bell pepper, finely chopped
Rainbow quinoa + onions + spinach + egg + mushrooms + black beans + tamari soy sauce
Sauté onions and mushrooms in a medium sized pan. When lions become transparent move to the side of the pan and mix in 1-2 eggs. When the eggs are scrambled combine them with the mushrooms and onions. Add in spinach, black beans, quinoa, and seasoning with tamari soy sauce!
"Cookie Dough" filled Dates
Filling: 1/4 cup cashew butter (can use any seed or nut butter) + 1 tbsp. mini dark chocolate chips + 2 Tbsp. almond flour + 1 Tbsp. maple syrup + 1 tsp. cinnamon + 1/4 tsp. salt
Slice and pit 15 dates. Stuff the dates with the filling and freeze for 30 minutes. Keep these stored in the freezer for a sweet treat on the go!
Roasted sweet potatoe and goat cheese salad
1/2 roasted sweet potato + 2 handfuls of mixed greens + 0.5 ounces of crumbled goat cheese + 0.5 ounces sliced almonds + 1 tbsp. homemade honey mustard (1 tbsp. honey + 2 tbsp. olive oil + 1 tsp. dijon or yellow mustard)
Toast multigrain bread with olive oil and minced garlic in a pan, add 1 tablespoon hummus, avocado slices, seasoning of choice, and top with balsamic vinaigrette. Feel free to add additional veggies, we added some tomato slices and hemp hearts!
Serves 2
2 cups almond or cashew milk + 2 tablespoons organic raw cacao powder + 1 tsp. vanilla + 8 drops liquid stevia (can also add honey or maple syrup to sweeten)
Tip: add in a scoop of vital proteins gingerbread flavour collagen creamer for some added collagen!
Heat all ingredients in a sauce pan over medium heat! When everything is heated together, pour into a mug and enjoy!
Creamy Potato Leek Soup (dairy free)
3 tablespoons olive oil
3 leek stalks
3 garlic cloves, minced
1 cup frozen corn
4 medium potatoes, peeled and diced
2 medium carrots, peeled and diced
4 cups broth
1/2 tsp. nutmeg
1/2 tsp. oregano
1/2 tsp. black pepper
Dash cayenne pepper (optional)
Cut off the root end and dark green tops of the leek. We only want the white and light green part. Slice open lengthwise and clean thoroughly. Then cut finely.
Add the leek, garlic and frozen corn to the pot and cook on medium for a few minutes until the leek has softened. Now add the potato and carrot dices and pour broth over.
Bring to a boil, then turn to low and simmer until potatoes and carrots are soft (about 20 minutes).
Puree about ⅓ of the soup in a blender. Add pureed soup back into the pot. Season to taste with spices
Creamy Cashew Sauce (dairy free)
1/4 cup soaked cashews+ 1/4 cup water + 1 tsp minced garlic
1. Soak cashews overnight (not required but helps when blending)
2. Add all ingredients to a blender and blend!
3. Add to any pre existing tomato sauce to create a creamy (dairy free) rose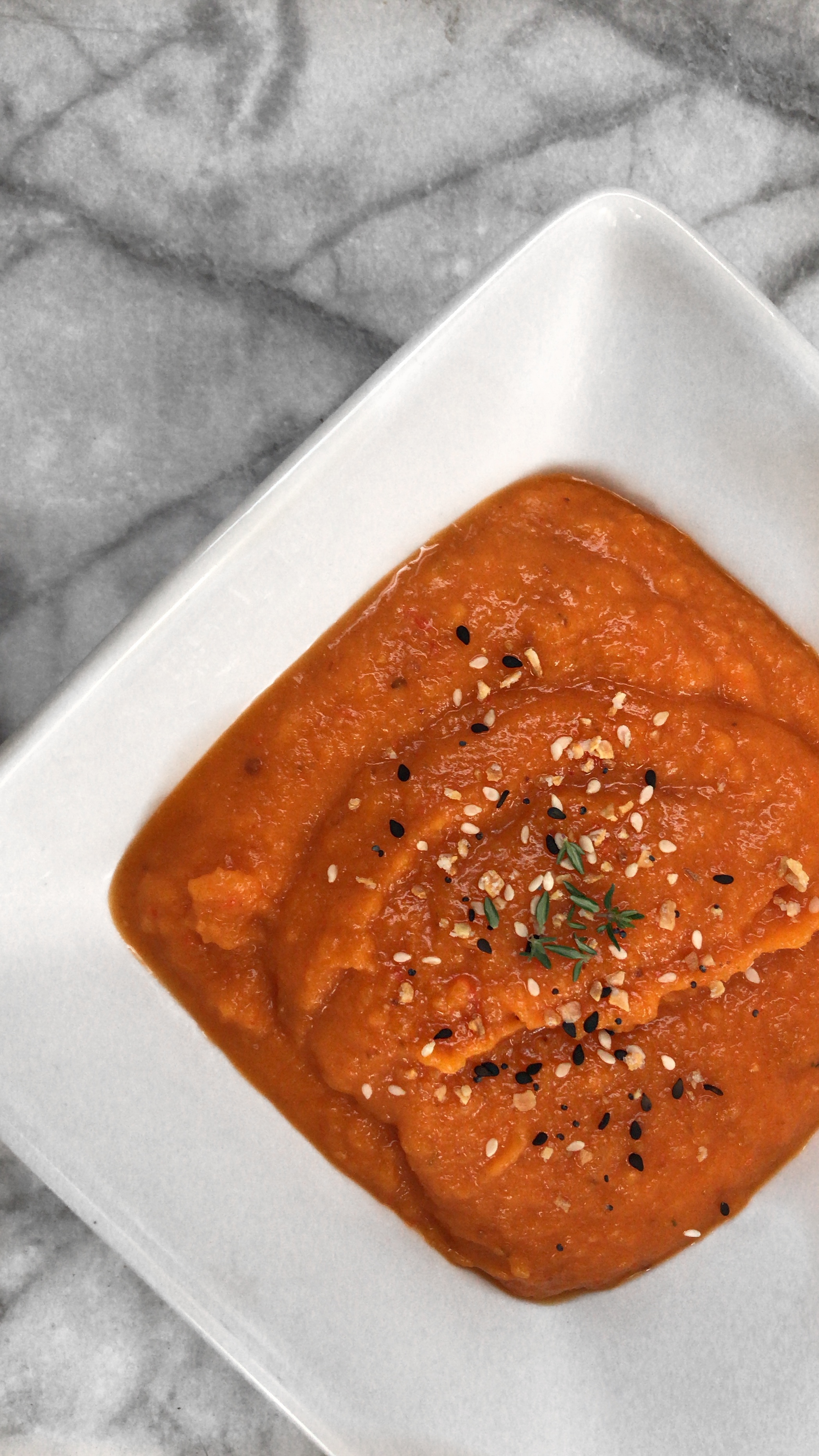 1 butternut squash (about 3 pounds), peeled, seeded and cut in 1-inch chunks + 1 onion, diced + 1 red bell pepper, chopped + 2 tablespoons olive oil + 2 tablespoons garlic, minced + 1/2 teaspoon dried thyme + 2 1/2 cups chicken stock, or more, to taste
Preheat oven to 400 degrees F. Lightly oil a baking sheet.
Place butternut squash, onion, bell pepper in a single layer onto the baking sheet. Add olive oil and garlic. Gently toss to combine.
Place into oven and bake for 30-45 minutes, or until butternut squash is tender, stirring at halftime.*
Heat a large stockpot over medium heat. Add butternut squash mixture and thyme, and cook, stirring occasionally, until fragrant, about 1-2 minutes; season with salt and pepper, to taste. Stir in chicken stock and puree with an immersion blender.
Bring to a boil; reduce heat and simmer until thickened, about 5-10 minutes.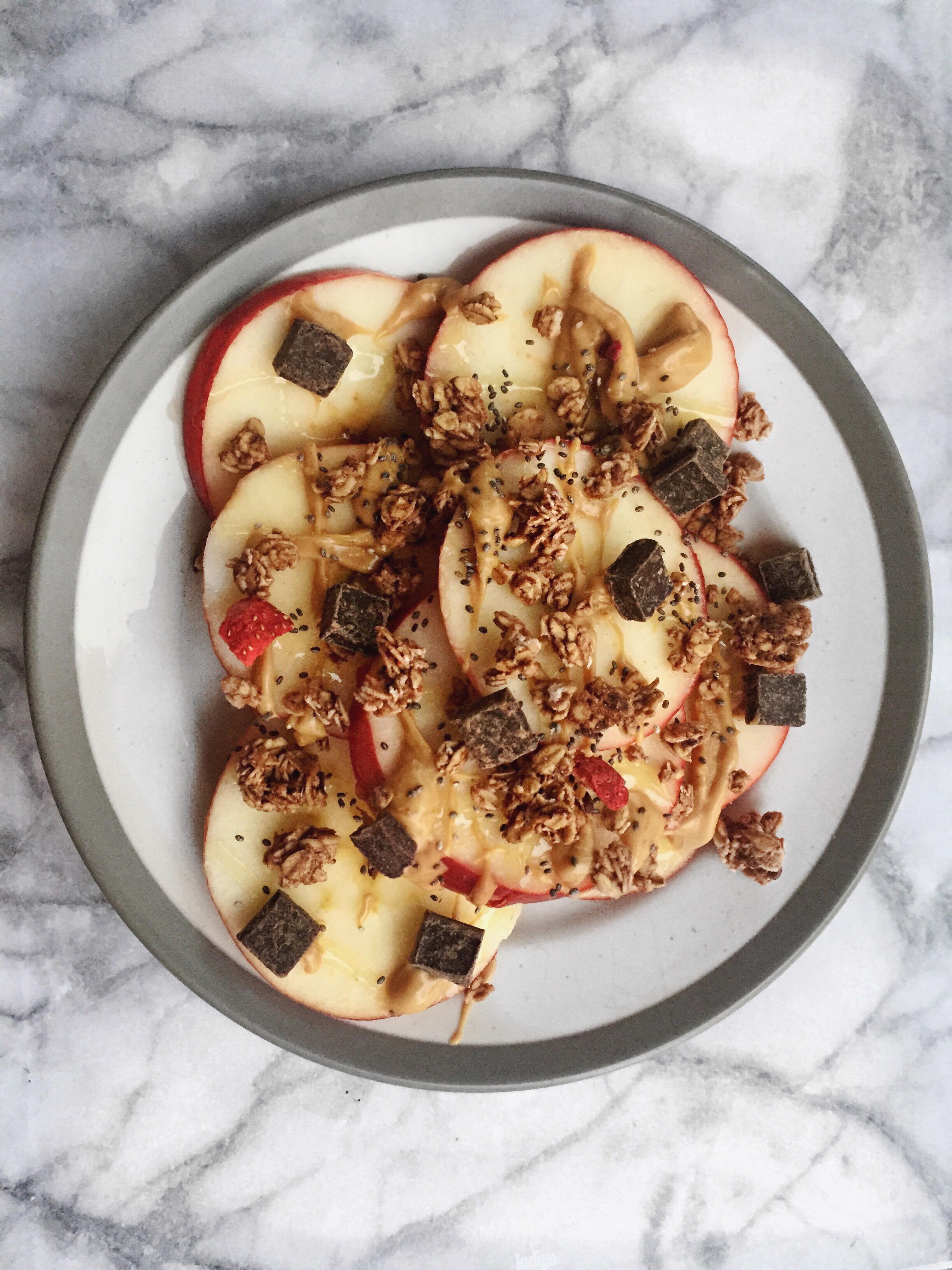 1 sliced and cored apple + 1 tablespoon melted almond butter + 1/2 tablespoon chia seeds + 1 tablespoon raw cacao chocolate chips + 1 tabelspoon granola
Warm Pear and Goat Cheese Salad
1. Cut and core 2 pears in quarters, mix in a bowl with 1 tsp. olive oil and 1 tsp. real maple syrup
2. Sauté over medium head 3-4 minutes each side until browned, remove and let cool while you prepare the salad
Salad 1 oz. crumbled goat cheese + 2 cups leafy greens + 2 tablespoons pecans + 1-2 tablespoons balsamic vinaigrette
Added roasted chicken to increase lean protein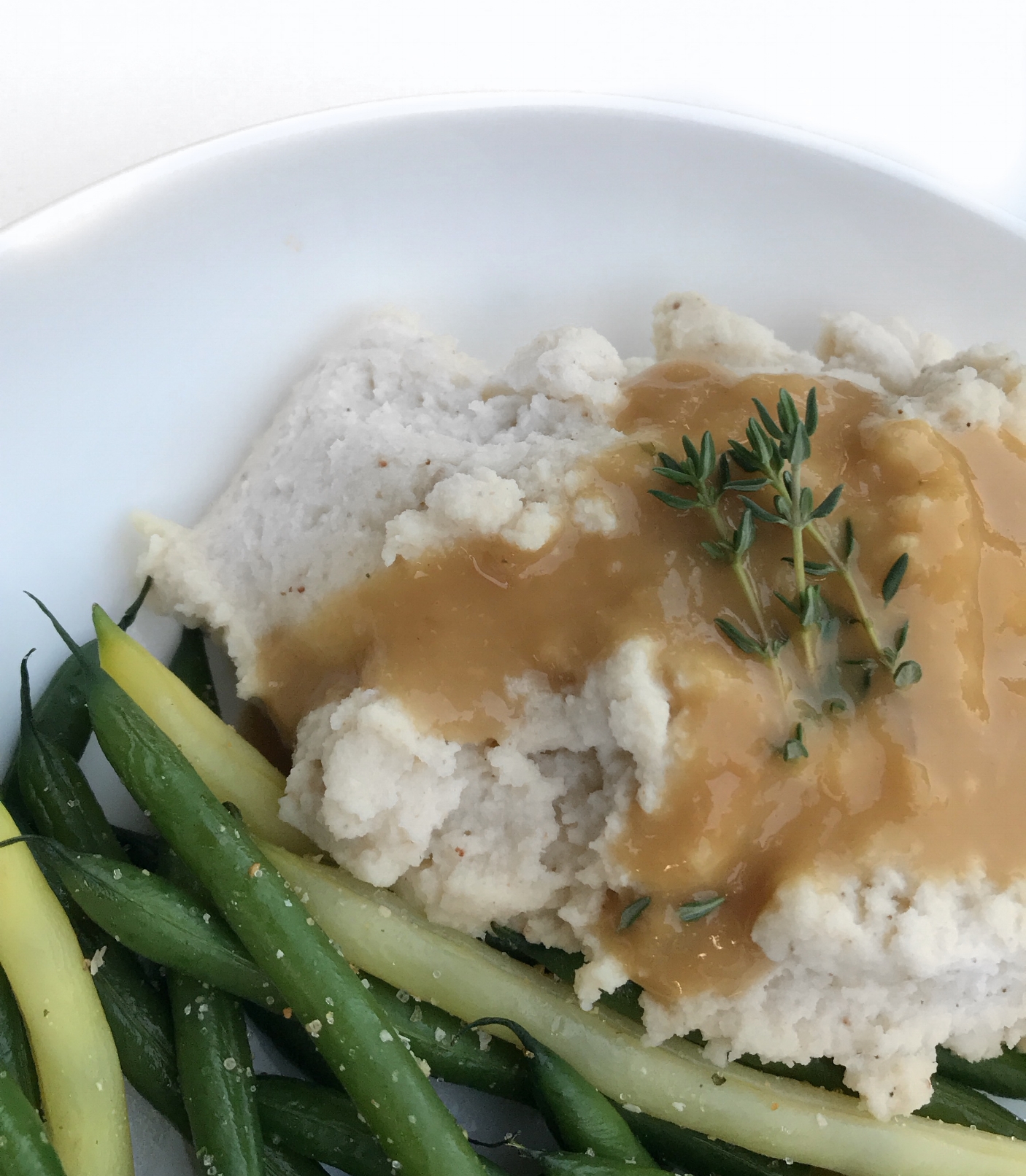 Cauliflower Mashed "Potatoes"
1 cauliflower head + 1 garlic bulb (or minced garlic) + 1 teaspoon olive oil + 1 tablespoon of non dairy milk (may need to add more while blending)
Preheat the oven to 400 degrees, if using garlic wrap in aluminium foil and roast for 40 -50 minutes
Steam cauliflower in a vegetable steamer or in a pot filled with 1 inch of water until very tender
Transfer cauliflower to a food processor and add the milk and garlic. Pulse until the mixture is smooth like mashed potatoes. Add salt and pepper to taste! No potatoes needed !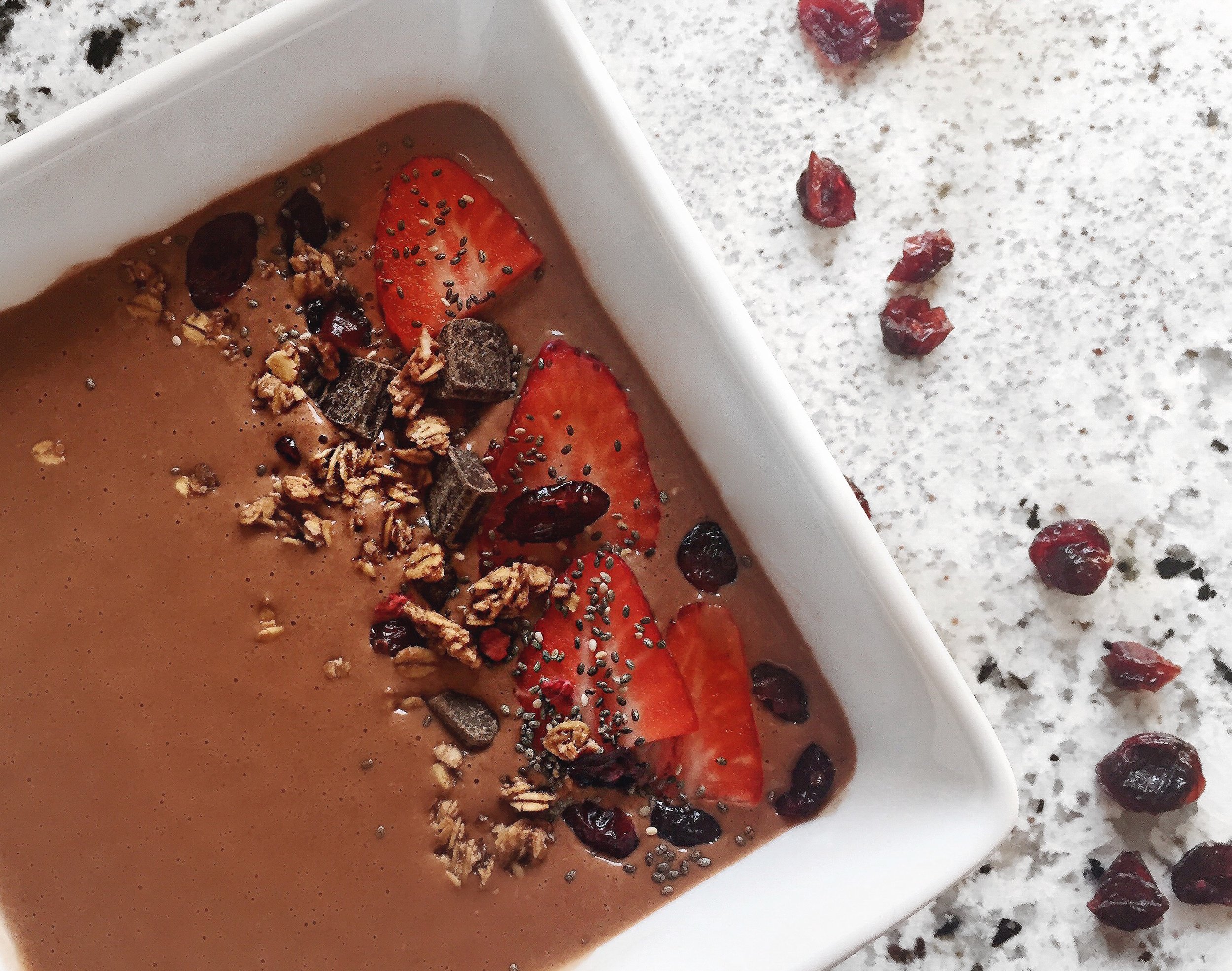 Protein Packed Smoothie Bowl
1/2 frozen banana + 2 cups cashew milk + 1 scoop of your favourite protein powder + 1 scoop collagen peptitdes + 1 tablepsoon raw cacao powder + 1 teaspoon spirulina + 1 tablespoon liquid sweetener of your choice
4 oz. grilled tilapia + 1/2 avocado + 1 tablespoon hemp hearts + Sriracha broccoli slaw +butter lettuce wrap
A quick and easy low carb take on a classic fish taco! Skip out on the corn tortilla and choose a more nutrient dense option! Butter lettuce is packed with vitamin A, phosphorus, calcium and magnesium!
A healthy baked oatmeal recipe using one of my favorite summer fruits: peaches! Make ahead for meal prep or a weekend brunch.
INGREDIENTS
2 cups old fashioned rolled oats
2 1/2 cups unsweetened almond milk
1 teaspoon cinnamon
1 teaspoon vanilla
1/2 teaspoon almond extract
2 cups ripe peaches, divided (1 cup chopped and 1 cup sliced)*
1/4 cup maple syrup
2 Tablespoons melted coconut oil or butter (optional)
pinch of sea salt
INSTRUCTIONS
Preheat oven to 375°F.
Measure out 1 cup of chopped peaches and 1 cup of sliced peaches.
Add oats, almond milk, cinnamon, vanilla, almond extract, 1 cup chopped peaches, maple syrup, coconut oil and sea salt in a large bowl.
Pour into a square baking dish sprayed with non-stick spray and top with remaining sliced peaches.
Bake for 45-50 minutes.
Remove baked oatmeal from the oven and let sit for 5 minutes to cool. Add a portion into a bowl and top with almond milk. before serving.
Maple Roasted Brussels Sprouts and Sweet Potatoes with Cranberries and Pecans
Maple Roasted Brussels Sprouts and Sweet Potatoes with Cranberries and Pecans - Brussels sprout and sweet potatoes are roasted together with cranberries, pecans, and a maple balsamic glaze, getting crispy and carmelized. This makes for a wonderful Thanksgiving side dish or for other holidays and celebrations throughout the fall and winter!
Prep Time10 mins
Cook Time35 mins
Course: Side Dish
Cuisine: American, Canadian
Keyword: brussels sprouts, sweet potatoes
Servings: 8 servings
Ingredients
4 cups Brussels sprouts (approximately 1 lb)

2 medium sweet potatoes , peeled and cut into 1/2-inch pieces

1 cup fresh or frozen cranberries

2 shallots , cut into wedges

4 tbsp olive oil

3 tbsp maple syrup

1 tbsp balsamic vinegar

1/2 tsp cinnamon

1 tbsp freshly chopped rosemary

1/2 tsp sea salt

1/4 tsp black pepper

1/3 cup pecans
Instructions
Preheat oven to 425°f.

Trim ends of Brussels sprouts, remove any yellow leaves and cut in halves.

In a 8x13" casserole baking dish ad the Brussels sprouts, sweet potatoes, cranberries and shallots.

In a small bowl whisk together the olive oil, maple syrup, balsamic, cinnamon, salt and pepper. Pour over the veggies and toss to coat.

Roast in preheated oven for 25 minutes. Add in the pecans, toss, and roast for another 10 minutes. Sweet potatoes should be fork-tender. If not, roast another 5-10 minutes, keeping a close eye to ensure pecans do not burn. Enjoy!